SHORT-FORM VIDEO
Build short video apps in minutes
Want to build the next TikTok, Instagram Reels, or YouTube Shorts where users can upload, scroll, and like videos?
Use api.video to integrate user-generated videos and live streams in your app — with just a few lines of code.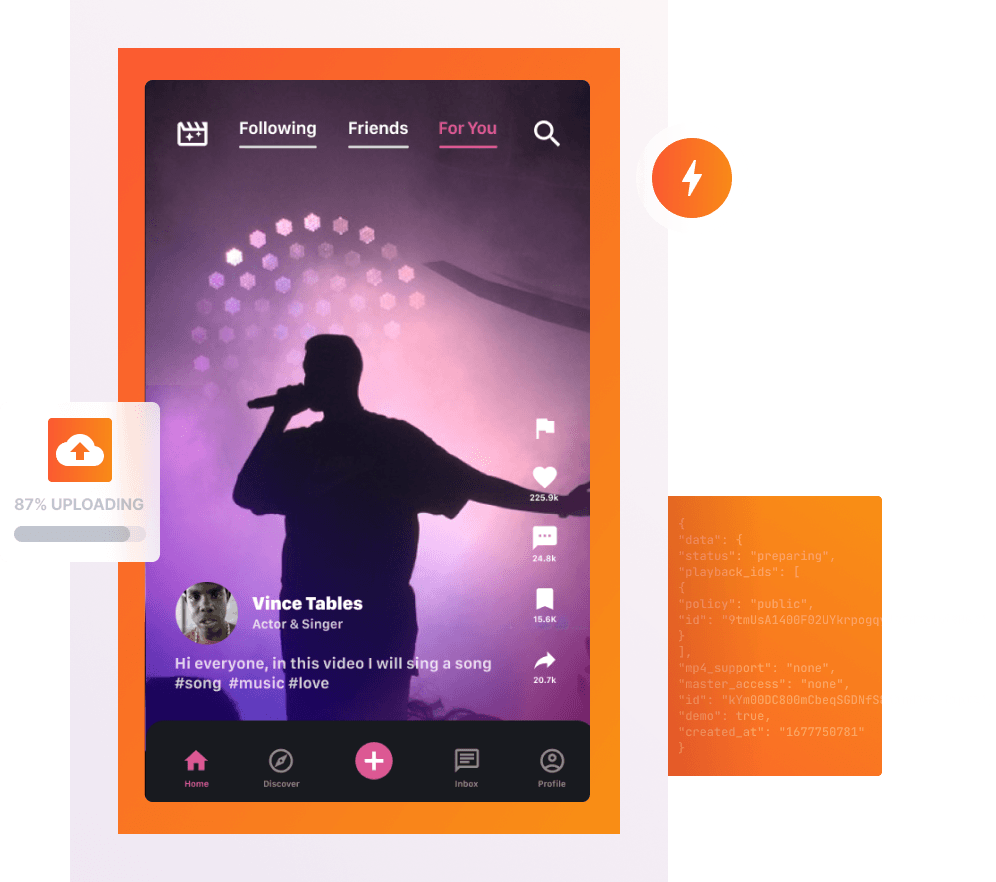 Why create a short-form video platform?
59% of short-form videos are watched for 41-80% of their length
TikTok has generated 1.53 Billion users in 7 years
47% of marketers agree that short-form videos are more likely to go viral
Build a TikTok clone with a single API
Say goodbye to the hassle of using five different tools to build an app like TikTok, Instagram Reels, or YouTube Shorts. From player, encoding, CDN & storage, to analytics, get everything in one place with api.video.
The API is fully flexible. You can build custom video workflows in no time.
Choose a video platform that is
cost effective at scale
As you keep adding new users, your usage increases significantly in no time. With most vendors, that means your costs increase as you scale.
Not with us. There's no platform fee and you pay for what you use. With volume discounts, your costs decrease when the volume increases.
Add watermark to your videos
The best way to build your audience base? Making your videos go viral on other platforms. Let your users share videos with your watermarked logo on each video. The watermark can be added automatically.
You can add additional branding within your app by adding your logo to the video player, or using a domain of your choice.
Why businesses choose api.video
Video tech that scales with you
More users = More videos + More streaming. Scalable servers ensure that you reach millions of users across the globe. You never need to worry about replacing your video technology when you scale.
Real-time analysis of your users
Get a complete overview of your users, videos, and live streams. Get real-time analytics by location, date, device, browser, time, and more.
Integration with your favorite platforms
Use api.video with Bubble, Strapi, Contentful, and 10+ marketplaces to build video solutions on desktop and mobile without writing a single line of code.
Documentation that developers love
It's dead simple to get started. With just a few lines of code, your developers can integrate videos and live streams to any section of your website, or app.
"We love that when a user uploads a video, the video playback is almost instantaneous. People have very low patience for uploading and sharing content, and api.video just works well."
Jonathan Dunlap, CEO at MintGate
Try out more than 80 features for free
Access all the features for as long as you need.
No commitment or credit card required